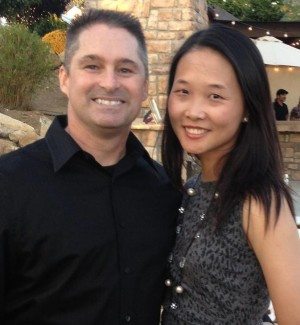 Hi, welcome to Itch to Stitch! I am Kennis Wong, owner and designer of Itch to Stitch sewing patterns. Actually, I am also the web/tech gal, customer support, drafter, illustrator, model, marketer and everything in between. Luckily, I do have a loyal partner in crime (a.k.a. my husband, Ray), who provides constant moral support, technical consultancy and beautiful photography.
In my past careers, I was in software and then in marketing. I got my master of business degree from University of Southern California. But after all that ladder climbing in Corporate America, we decided that we want to live a fulfilling life. That's why Ray and I moved to beautiful Costa Rica. Now we live by the largest lake in the country, Lake Arenal. My goal in life is not being able to distinguish play from work, and Itch to Stitch is helping me to achieve this goal. I wake up everyday happy and look forward to everything I do for Itch to Stitch. And I get awfully excited about the new designs.
I learned to sew when I was 13 years old in Hong Kong. I attended the so-called "technical" school where, in addition to normal subjects, girls had to learn typing, home economics and dress making, and the boys had to learn technical drawing, woodworking and metal work. If I had my way, I probably would take the boys' classes too, since I love working with my hands (the school wouldn't be able to get away with that gender segregation today). My first finished garment was a baby's dress. And I learned to sew on a treadle machine (you see, the school wasn't that well-funded). I just loved everything about it. Since then I have been sewing on and off, using commercial patterns from the Big 4, European sewing magazines and some independent designers. Finally, I said to myself, "Why don't *I* design something?"
Itch to Stitch's designs are really my personal style. They are modern and elegant. Perhaps they are not always simple to sew (because I love details!), but they always have high-quality finishes. Of course I want them to fit well; that's why most of my designs have many sizes and different cup options. I am always looking for inspirations. I post them on Pinterest, Instagram (#ItchToStitchDesigns) and Facebook. Feel free to drop me a note there, and you can also contact me at:
kennis.wong@itch-to-stitch.com
500 Westover Dr #12323
Sanford, NC 27330
Happy sewing!